Profhilo is not a dermal filler or biorevitaliser – Porfhilo  has opened up a new injectable category – bioremodeling
Profhilo is the first BDDE-free stabilised injectable Hyalournic Acid (HA) based product for treating skin laxity. One of the highest concentrations of HA on the market, it is not only boosting and hydrating the skin, but also remodels the ageing and sagging tissue. Profhilo delivers great results as a treatment on its own or in combination with other aesthetics treatments
HOW DOES PROFHILO WORK?
As a stabilised product Profhilo lasts in the skin around 28 days.
During this time the stimulation of 4 different types of collagen and elastin takes place by slow release of HA. Profhilo provides a stable HA architecture in the dermis. This gives the volumetric effect – the Lift effect.  The effects of Profhilo last around 4-6 months after your second treatment. To help maintain the effects of Profhilo it is recommended the you have a treatment every 9-12 months.
UNIQUE PRODUCT
There are many characteristics that make Profhilo unique from anything else available on the market right now. There is no BDDE content. It is thermally cross-linked generating stabilised hybrid co-operative complexes of H-HA and L-HA. Despite its high HA content, it has a low inflammatory profile coupled with pro-healing properties backed by clinical studies. To fully understand this new concept in anti-ageing medicine we have to take a look at the technology first.
HOW IS PROFHILO STABILISED?
Profhilo is developed by using a patented technology resulting in hybrid cooperative complexes between high molecular weight HA and low molecular HA without the use of any chemical cross-linking compounds. These complexes increase the stability of HA to enzymatic and mechanical degradation.
AP TECHNIQUE
To maximise the diffusion in the malar and sub-malar areas:
• The BAP were specifically chosen in anatomically respective areas
• The dilution phenomenon of the product itself
• 5 injections per side
• Reduced pain (slow injection)
• Lower possibility of bruising or hematoma
• Reduced number of treatment sessions
• Greater patient compliance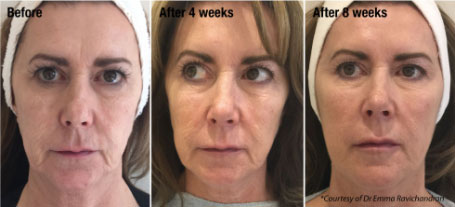 ADVANTAGES
In Profhilo, L-HA is released slowly from the HA hybrid complexes and therefore does not trigger the first inflammatory cytokines making it very biocompatible. It also increas¬es patient comfort during and after treatment and provides hydration to the skin especially in the epidermis – the Hydro effect.
H-HA in Profhilo provides a stable HA architecture in the dermis. This gives a volumetric effect – the Lift effect.
Another advantage of the stable co-operative hybrid complex when compared to H-HA and L-HA is the increase in the ex¬pression levels of type I and type III collagen in fibroblast and type IV and VII collagen in keratinocytes.
This results in improved skin quality and skin hydration both in the dermis and epidermis. There is also increased production of endogenous HA and elastin giving the skin a more youthful look.
"Kath is really supportive, understandable and a problem solver. Kath sorted me just in time for my marriage after my face acne decided to act up again. She even worked during her holiday time to sort me out in time by taking right decisions. It's very hard to find such a compassionate person who takes care of her clients. I will highly recommend Kath.
"I just wanted to say how happy and delighted I am with the treatments I have received from you. When I first came to you for a treatment I was feeling quite aprehensive, but your professional and friendly attitude soon put me at my ease. I can honestly say I was astounded by the results of the first treatment I received from you, and I have since that time felt increasingly happy and thrilled with the results on each following treatment. I am looking forward to my next visit and the subsequent happy results."
I never write review's but I have so much praise for Kath. I first tried a well- known cosmetic clinic and was so disappointed with the results not forgetting the expense! I took time to research and found Kath. I've been seeing her for about 10 years now and wouldn't trust my face win anyone else's hands. My daughter needed a confidence boost lately and Kath gave her just that! Qualified, professional, knowledgeable, caring and friendly. Kath's got is all in one package!
"Two years ago I was very concerned about the amount of wrinkles I had around my mouth and nose. After a lot of research I decided to consult Kath Cumberland, believing at the time that nothing could be done to improve the appearance of these wrinkles. Kath made me feel at ease immediately and reassurred me that she would be able to help me. After taking Kath's advise about the best treatments and products to use I am delighted at the results and would not hesitate to recommend her to anyone."
"I have been going to see Kath Cumberland now for about 3 years. I just love going as when I leave I just feel great inside and out. One friend said to me October I look younger now than I did when I had my last baby (she the baby will be 21 in January). I do think it is a little expensive but then you only get what you pay for and to me that is results and they are amazing. I find Kath very professional and kind I recommend her very highly as she is excellent"
Kath has been looking after me for at least 10 years now. She is very professional, highly experienced, confidential and I am always delighted with the results. She always explains the treatments beforehand and ensures I am comfortable with the treatment I am receiving. I can highly recommend Kath to anyone that wants to improve how they look and maintain it.